The principle of handling by suction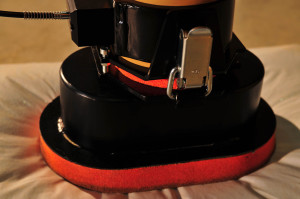 DESCRIPTION OF HANDLING EQUIPMENT VACUUM
Turbine-motor unit.
Lifting tube with rotary seal.
Suction head with rotary or trigger type control.
Suction cup adapted to the product.
Dust removal unit with cartridge filter.
Anti-fall check valve.
OPERATION
The turbine is connected to the lifting tube by a 50 or 35 mm diameter suction hose. The item is picked up as soon as the suction cup comes into contact with it. The lift tube then contracts and the load's weight is supported by the vacuum. It can then be moved effortlessly. The rotary or trigger type control is used to raise or lower the load.
SAFETY
The turbine is protected by a dust removal unit. In the event of power failure, an anti-drop check valve allows the item to drop slowly to the floor with no risk of slipping. If overloaded, the devise will not lift the load.
Optional installation features
Bracket crane : 2 to 6 meters long, with wall mounting kit or column-mounted.
Travelling crane.
For loads from 10 to 300 kg.
Some videos to discover the features of our products
You have a need ?
Your business requires a system simple and efficient handling and you need advice on the most appropriate handling equipment in relation to your products ?
Advice, information
From Monday to Thursday,
From 8:15 to 12 am and 13:30 to 17:30
Friday from 8:15 to 12:15